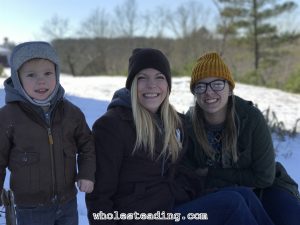 Last night a winter storm passed through our area and we received several inches of snow! We had fun playing outside and making snow angels but the snow was not sticky enough to make a snowman. We had planned to pick up a snow disc at Ace Hardware but when we stopped by they had already sold out. The forecast predicted 2-4 inches of snow to fall during the middle of the night so we went to bed looking forward to seeing in the morning how much snow stuck around.
I woke up and was delighted to see a winter wonderland from our bathroom window. It's rare in Georgia to get enough snow to even cover the grass.
I was pleased to see that there might be enough snow for sledding but then remembered that we hadn't been able to purchase one. I decided to try and build one from the left over wood in the garage from previous projects. I'm so glad I did! It took less than 20 minutes to build the sled. I used a miter saw to quickly cut some 2x4s and some 1x boards. I used a jig saw to cut a curve in the two 2×4 pieces that would serve as the runners (skids) so they wouldn't catch on the snow or grass. I arranged the 1x boards over the skids in a way that created a small gap for our fingers to hold on to the seat and positioned two boards at the front to stabilize the structure and provide a place for our feet. I was super skeptical and truly didn't expect it to work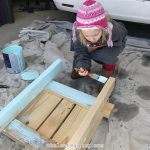 at all. The sled felt pretty heavy when I finished building it but a quick test run with Noble proved that it was going to work fine. Harvest gave it a quick coat of paint and we were off to try it out. If you have any questions about how to build the sled just leave a reply.  Here is a picture of the final homemade wood snow sled: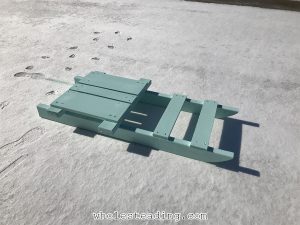 Everyone enjoyed it!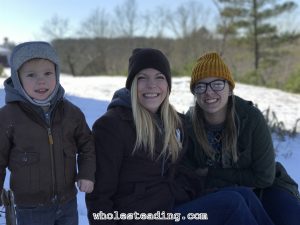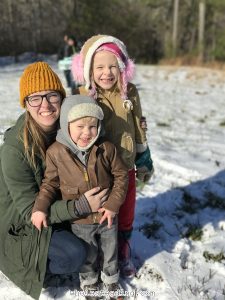 We tried a few test runs on the small gentle hill leading down to the chicken coop,
but quickly moved over to the big hill leading down to the creek.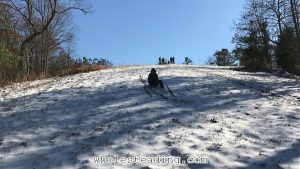 That hill has a barbed-wire fence at the bottom so if you see us putting our feet and hands down to slow the sled down near the bottom it's not because we didn't like going fast! I ended up stationing myself at the bottom as a safety precaution to catch anyone that wasn't going to be able to stop in time.
It was well below freezing so we each took several turns and then headed back to the house to warm our hands and noses in front of the fireplace!  Perfect winter weekend! Hope we get some more snow this year!  Here are some more videos from today: