Because I am a clean eating enthusiast and an unapologetic foodie, I am constantly on the prowl for spectacular cuisine that doesn't break my clean eating boundaries. My goodness, did I find a treasure when I discovered True Food Kitchen in the Buckhead area of Atlanta! This place develops its menus on the research and recipes of nutritionist Andrew Weil, M.D. The goal is to nourish with anti-inflammatory meals that taste amazing at the same time. Like I have been telling my friends, clean eating does not have to be boring – and True Food Kitchen proves that!  There's something for every palate including plenty of variety for vegans and vegetarians. Here is the link for the dinner menu – but I took a snapshot as well.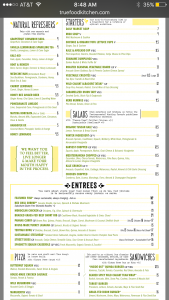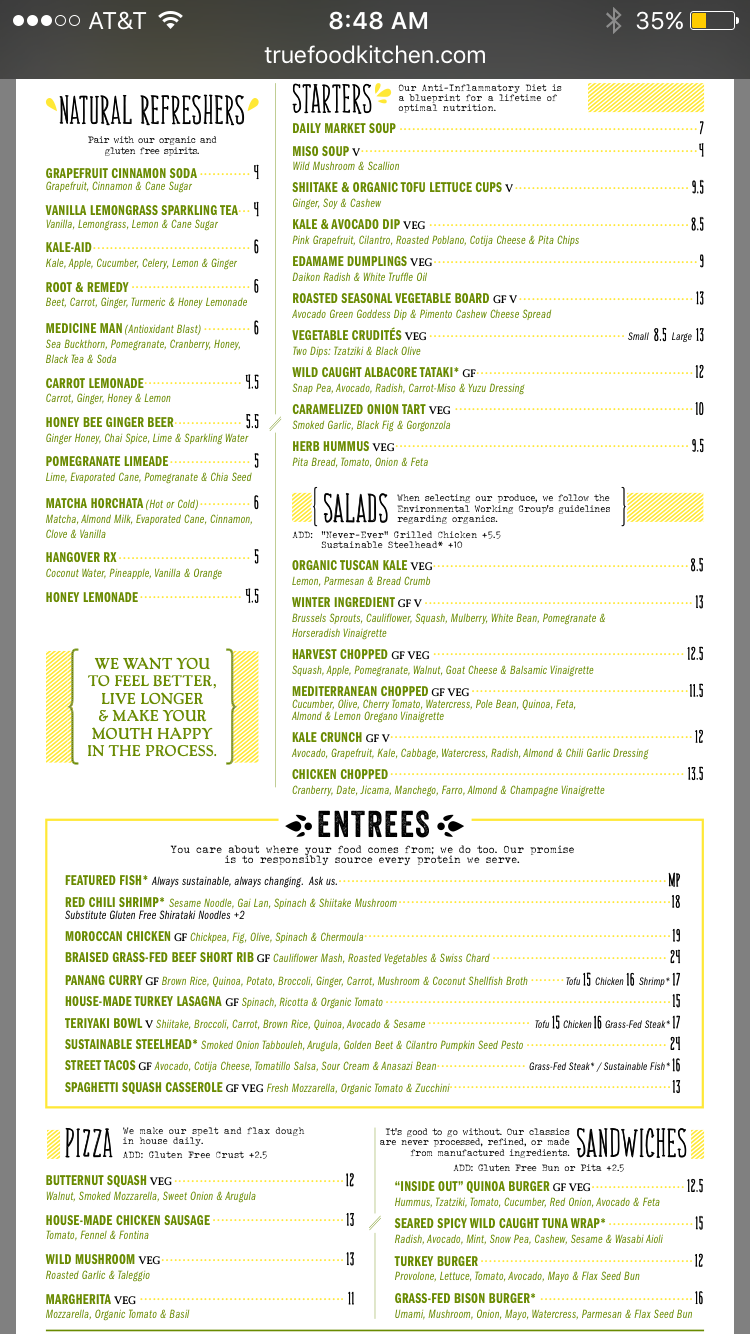 True Food Kitchen: Lunch Date
Anthony and I first went to True Food Kitchen for a Valentine's lunch date.  We went around noon on a Saturday and had a moderate wait time. We were seated in a comfy spot and were greeted by a friendly waiter named Stanley who immediately offered us a drink from their impressive "no Coca-Cola or Pepsi products" drink menu. I chose the Grapefruit Cinnamon Soda and Anthony had the Pomegranate Limeade. Wow! We were beyond impressed. These drinks tasted way better than Coke and actually had some nutritional benefits to offer.
Stanley then graciously explained the menu to us and was patient as we first-timers made our selections. He gave some on point recommendations for appetizers  (the edamame dumplings and the caramelized onion tart) and we were SO not disappointed. We selected the roasted vegetable platter for an additional appetizer. The accompanying green goddess dip made this dish. I'm committed to trying to copy it.
For our entrees, I got the sustainable steelhead dish and Anthony ordered the inside out quinoa burger.  By this time we were both fairly satiated, and neither could finish much of our entrees.
True Food Kitchen: Family Outing
Our second trip to True Food Kitchen was even more impressive.  We brought several of our kids on a Saturday evening around six. We were seated with no  wait. We were so excited to have Stanley as our waiter again! I was instantly impressed with how family friendly it was for a Saturday evening in Buckhead. The kids were received warmly and there were several other families with children as well.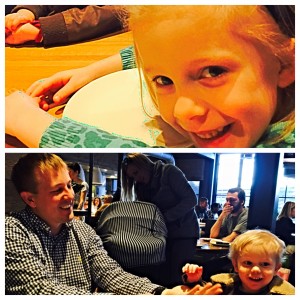 Some highlights of our second  trip included the kale and avocado dip, house-made turkey lasagna, grass-fed beef street tacos, pizza off the kids menu, and the braised grass-fed beef short ribs.
Oh. My. Goodness. The short ribs deserve a paragraph to themselves.  No exaggeration, this is probably one of the best things I have ever put in my mouth. I would make the trip to True Food Kitchen just for this. Hmmm, maybe tomorrow. :>)
We punctuated the meal with the flourless chocolate cake and coffee – a perfect end to an outstanding meal.
If you are anywhere near Atlanta and healthy eating is a priority for you, True Food Kitchen is a must try.  If you are not in Atlanta, here are some other True Food Locations:
Dallas, Texas
Denver, Colorada
El Segundo, California
Fairfax, VA
Houston, Texas
Newport Beach, California
Phoenix, Arizona
San Diego, California
Santa Monica, California
Scottsdale, Arizona
FUTURE LOCATIONS
Austin, Texas
Chicago, Illinois
Nashville, TN
New York, New York
Palo Alto, California
Pasadena, California
Sunrise, Florida
Walnut Creek, California