Have you ever tasted a soup with a depth of flavor that you just can't explain?  Did it have an indescribable richness that you would love to duplicate?  Chances are the chef of that soup utilized a secret trick that has become less common ever since boxed and canned broths have become prevalent at the market.  Most likely the cook has an important but old-fashioned weapon in his or her arsenal – chicken stock made from scratch.  While the sound of this might initially seem too overwhelming or involved, I can assure you that making chicken stock is easier than you think.  I dare you to try it just once and you likely won't be buying boxed chicken broth again.  It does take some planning ahead, but it is SO WORTH IT!  Not only is homemade stock delicious, it is incredibly nutritious as well.
CAUTION: If you do not have access to an organic, pasture raised chicken, do not make this! You will be consuming toxins and impurities from the chicken bones in a concentrated form.
Making Chicken Stock: Ingredients
1 whole organic, pastured chicken (if there are giblets, use these as well)
4 organic celery stalks, rinsed thoroughly and broken into thirds
3 organic carrots, rinsed thoroughly and broken into thirds
2 organic onions, peeled and quartered
8 organic garlic cloves, roughly chopped
8 whole organic peppercorns
1 bunch of organic fresh thyme (optional, but lovely)
1 TBSP vinegar (optional, but helps to draw the nutrients out of the bones)
Note: I do not add any salt in this recipe.  I season to taste later based upon what I use the stock for.
Making Chicken Stock: Directions
Put all ingredients in a crock pot and cover with filtered water to about an inch from the top.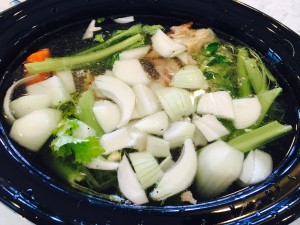 Cook on low setting for 6-8 hours, or until chicken is cooked through.  Remove chicken only and take all of the chicken meat off of the bone.  You should have a pile of chicken only and a pile of bones, skin, and cartilage.  Dump all of the bones, skin and cartilage back into the crock pot and add filtered water to within an inch of the top.  If using the giblets, these should still be in the crock pot. Reserve the shredded chicken for another use.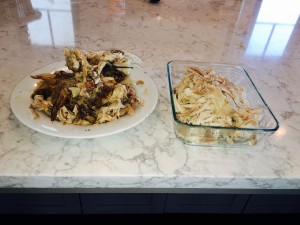 Continue to cook contents of the crock pot for an additional 24 hours.  Yes, you read that right. A good chicken stock cooks for a very long time. At this point you should have something that looks like this.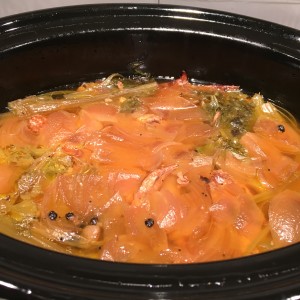 Using tongs, remove all of the large pieces of bones and vegetables and discard.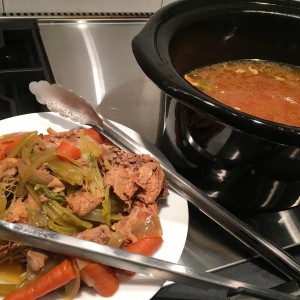 Then ladle the broth over a fine mesh strainer to filter out the chunks to leave you with just beautiful, golden, smooth stock.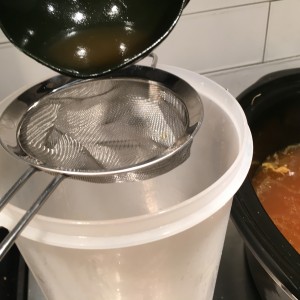 Refrigerate the stock overnight so the fat congeals on the top.  Skim the fat off with a spoon and now the chicken stock is ready.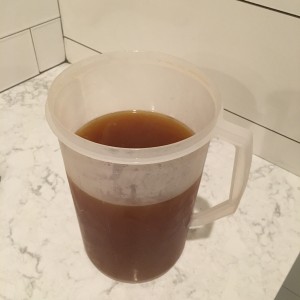 Sometimes I use all of this stock at once when I am making a soup or chicken and dumplings.  However, it is not uncommon for me to keep a batch of this in the fridge to warm up a cup at a time for a soothing, nourishing treat.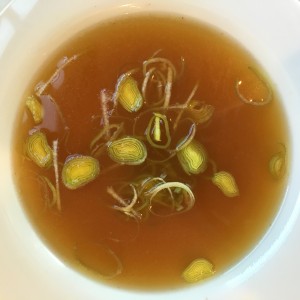 Try this just once, and you will find that making chicken stock is much easier than you might think!