Last  year I completed one of my first "real" woodworking projects, the Ana White 4×4 Truss Beam Table.   I was impressed with the quality of the directions Ana provided, especially the images she created using SketchUp. We are currently in the middle of building our dream home and my wife has many woodworking projects in mind for me.  For example, she would like me to do a version of the table above, but 12 feet long.
Bethany is also hoping we can save some money on the powder room vanity, shelving, and other structures for our new home by building them ourselves.
The first project she had on the honey-do list was to build the powder room vanity.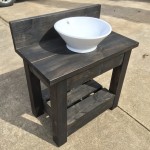 Unfortunately, I was not able to find a plan that exactly matched the structure Bethany wanted me to construct.
I did find several Ana White plans that combined had all the features and elements Bethany was looking for but I decided it was time to learn SketchUp so I could combine all the ideas into one perfect plan. Unfortunately, I had to start from scratch because Ana does not post her SketchUp files on her blog (not that I could find).
I have no previous 3D or CADD experience so I started by looking for free online tutorials for designing woodworking projects in SketchUp.  I only found one site that was close to what I was looking for – http://sketchupforwoodworkers.com.  I decided at this point that I would document the entire process of learning SketchUp and using it to create this first project so that others can benefit from my experience and shorten their learning curve.  I thought it might also help me keep my thoughts together as I go through the process.
Rather than recreate a new tutorial completely from scratch I'm going to simply point you to the same resources I used to learn everything that was needed to design the Powder Room Vanity.  Then, within the SketchUp file itself you can see the instructions for building the vanity but you can also see how I put to practice the information in the videos below:
SketchUp Tutorial for Woodworking Projects
Step 1 – Download SketchUp
You can download SketchUp at http://www.sketchup.com/download
You will have to choose Educational, Personal, or Professional depending on your intended use.  Once you complete the online form and download the software, the install is very straight forward.
Step 2 – Watch this video and follow along in SketchUp
Checklist of action items from this video:
Select the template "Product Design – Woodworking – Inches"
Go to the menu Window>Model Info> and change precision to 1/16″ and check the box for "Enable length snapping"
Understand how to create a rectangle
Understand how to move around in the tool – Orbit, Pan, and Zoom
Understand the push/pull tool
Understand the difference between a face, an edge, and a vertex
Understand how to erase an edge so that two faces can be merged
Be able to create the staircase presented in the video
Step 3 – Watch this video and follow along in SketchUp
Checklist of action items from this video:
Understand the tape measure tool
Understand how to select-all and to delete
Understand how to use the dimension input to automatically size components correctly
Understand how to group multiple faces/edges into one object using both select with the cursor and with the triple click option.
Understand the move/copy tool

Pay particular attention to the /4 option!
Amazingly, just the two videos above is enough knowledge to be able to create the powder room vanity.  I highly recommend investing the time to watch all of Rob Cameron's videos at http://sketchupforwoodworkers.com/ so that the only thing limiting you in your designs is your imagination (and not your knowledge of SketchUp).
If you try to create a design remember that you should try to use standard lumber dimensions.  HERE is a link to a chart that I frequently reference while working on my SketchUp designs.
This is what the final plan for the powder room vanity looks like: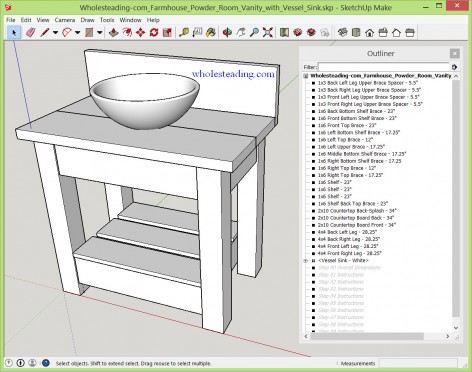 You can download both the SketchUp plan files and see pictures and instructions for how to build the Powder Room Vanity HERE.
Be sure to SUBSCRIBE if you want to be notified of new posts.