As we were planning and preparing to begin construction we decided to get a head start on applying for a septic permit so we would have less surprises later in the construction process.  Our lot has all utilities provided at the street except sewer so we knew a septic system would be required.  In fact, as part of the due diligence process we paid for a level 3 soil study and as we neared building we dug some test pits to help determine the best location for the septic drain field.
You can read about the test pits and soil study HERE.

Our builder recommended we work with a particular septic system installer. The septic installer drafted up the plan below: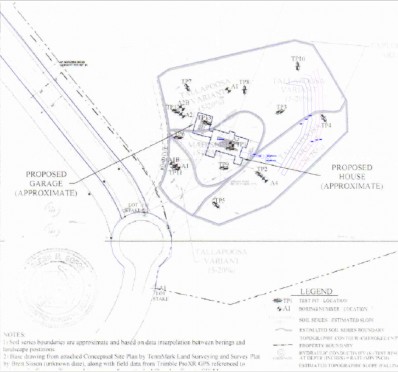 We then took the plan to the local county health department and requested a septic permit.  The county's fee was $450 and they required the following information as part of the septic permit application process:
A level 3 soils report
House location drawn on the soils report
All property lines must be marked approximately every 50 ft
House location must be marked on the property
Plat of the property
We ended up having to make some changes to the above plan based on the county's feedback but overall the permitting process was not too painful.  We haven't installed the septic system yet so there may be more hurdles to overcome later in the build process.  Check out the Building Our Dream Home page to see other posts on the entire build process.