I passed!  I have been putting off getting my Project Management Professional (PMP) certification for years and finally decided this was the year to get it done! The company I work for is strongly encouraging employees to get this certification and they recently sent me to a PMP Bootcamp.  I thought the PMP Bootcamp was good but I left feeling like I had a lot of gaps in my knowledge.  I ended up doing three basic things to prepare for and pass the PMP exam:
1. Read the entire Head First PMP

book. 
I highly recommend this book!  It flows well, covers everything you need to know, and makes it interesting by building all the lessons around real-world scenarios.  It also includes practice questions and lots of exam tips and tricks.

2.  Memorize the formulas for communications channels, Earned Value Management, PERT Analysis, etc.  These are summarized well in the book but if you want a sneak peek at the main formulas there is a nice summary HERE.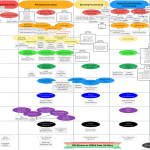 3.  Study the knowledge areas and process groupings and then memorize all 47 processes and which areas/groupings they fall under.  Click on the picture to see the  "PMP Mindmap for PMBOK 5th Edition" I created to help me memorize all the key information I thought I would likely see on the exam.
In preparation for the exam I assembled a "Mindmap" or "Cheat Sheet" as some like to call it.  I prefer not to call it a cheat sheet as there is no cheating involved.  You are not allowed to bring anything into the Prometric exam center with you but they do provide you with scrap paper, pencils, and a calculator.  As soon as the test started I wrote down everything I could remember from my "PMP Mindmap for PMBOK 5th Edition".  I started by listing the knowledge areas down the left, the process groups across the top, and then drawing in lines to make a grid.  I then filled in all of the 47 processes that I could remember in the corresponding spots.  I also wrote down all of the formulas I could remember and any other thoughts that came to mind that I thought I might like to remember during the four hour, 200 question exam.

This approach made the exam surprisingly easy!  Many questions I was able to quickly answer with little thought by referencing my Mindmap.  Hope you find my PMP Mindmap as helpful as I did.  The PDF version looks great on an iPad or other tablet for while you are studying.  You can also zoom in and view it pretty well on a smartphone.  This PMP Mindmap is free for your use, and to share with others, but please don't modify it, use it for commercial use, or remove the reference to Wholesteading.com.  Thanks! Anthony
Click HERE for a super high resolution PDF version of the PMP Mindmap for PMBOK 5th Edition by Wholesteading-com.
Below is a PNG file for those that prefer a picture format: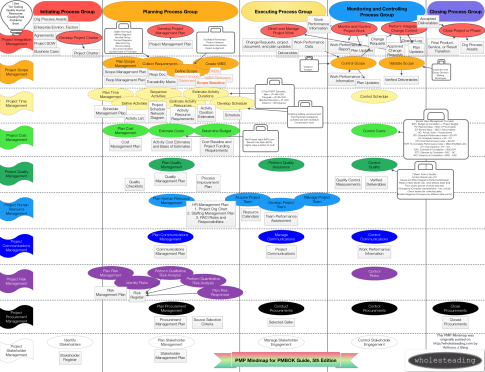 This post has quickly become one of the most popular posts on our site…please make it even more successful by sharing it with others: