For those of you that have been following our build process, you know that we purchased land for our dream home a couple years ago.  We have been slowly working towards making our vision a reality.  Part of that process was taking what was in our heads and getting it down on paper.  We received the help of many people in helping to take a vague idea of our vision and slowly turn it into an executable plan.  Two key people stick out as key contributors though.  The first is Casey Norris with Lady Slipper Rare Plant Nursery and the second is Doug Bork with Elements Landscape LLC.
We have been sketching designs for years but we are new to homesteading, custom home building, landscaping, etc.  We decided to meet with someone we trusted had the knowledge of what grows well in this part of the country – Casey Norris.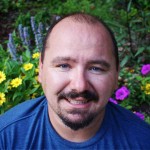 Casey came out to our property to take a look around and then provided us his perspective on what he would do with the layout of a future hobby farm and recommended particular trees and berry bushes.  For example, Casey provide a list of fruit trees and blueberry bushes that grow well in this part of Georgia:
Ayers Pear 20×30
Summer Pecan  30×30
Stuart Pecan 30×30
Chocolate Persimmon 20×30
Blush Delight Apple 10×15
Golden Delicious Apple 20×20
Red Delicious Apple 20×20
Brown Turkey Fig  15×10
Pomegranate
Blueberry Bushes – 6 varieties that will provide fruit all season, from June till August:

Premier
Austin
Climax
Star
Tift Blue
Bonita
Casey also made recommendations regarding honey bees and goats:
Bees

Casey said the old timers around here recommend 3 to 5 hives.  They should be placed in the shade.  Most people put them in the edge of the woods and away from the house.  Great places to buy hives are www.pigeonmountaintrading.com and www.dadnat.com
Goats

He recommended several types of milk goats, including Nubian, LaMancha, and Alpine
Casey provided a ton of insight but we knew we still needed to take what we learned from him and what we had in our imaginations and find someone that could take our vision to the next level and document everything professionally.  Bethany did a ton of Internet research to find the right person/company to assist us.  We finally settled on Doug Bork, one of the owners of Elements Landcape LLC.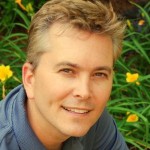 Doug met us at the property and listened carefully to our short-term requirements and our long-term vision for the property.  He took all of that input and put together an amazing homestead master plan!  He met with us again a few weeks later and we went through all of the design elements in detail.  He took our final feedback and made additional edits until everything was perfect.

However, just after he finished the final set of plans we decided to
change house plans
.  Doug quickly dropped in the footprint of the new floor plan and adjusted the layout of the hardscapes, landscapes, and all of the other plans as needed.  Here are the final versions of all of the plan types….please share your feedback by leaving a reply to this post: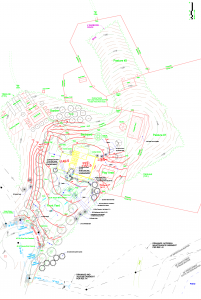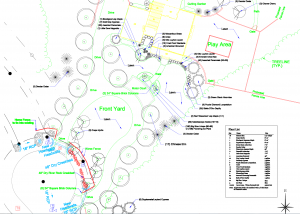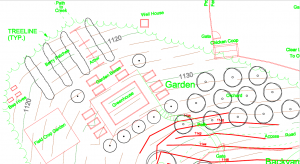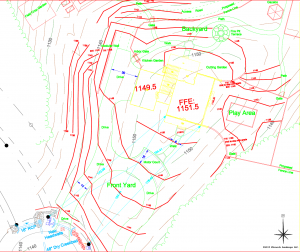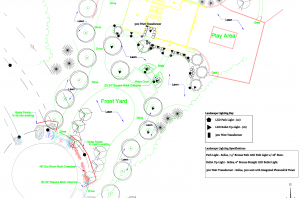 If you have comments on the master site plan, the garden plan, the lighting plan, the grading plan, or the landscape plan we welcome your feedback. Part of the reason for this blog is to share what we have learned as we make a move from a suburban lifestyle to a homesteading lifestyle. Another part is to learn from others as we share the process online. If you see mistakes we are making please share your wisdom, especially now as at the time of this writing it is not too late to make changes. Looking forward to your feedback!