Our Saturday morning classes at Lady Slipper Rare Plant Nursery have been quite a joy, and this last Saturday was no exception! In the latest class we were privileged to learn from the owner of Merrilily Gardens.  Merrilily Gardens is a local business that specializes in over 350 varieties of day lilies. The owner of Merrilily Gardens, Merrily McLaughlin (yes, you read that right), was especially helpful in explaining how to propagate daylilies. This is an inexpensive way to get your landscaping dollars to go further.  Furthermore, splitting your day lilies is actually good for the plant.  It is advantageous even if you do not want more day lilies (You can always give the cuttings to friends and family to share the pleasure of these beautiful plants).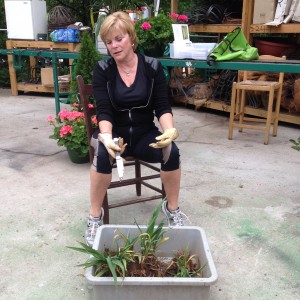 Merrily is a master gardener and it shows! Merrily also sells a signature line of gourmet sauces and jams.  You can order from her gourmet line by phone or from her web site.  If you live in the Cherokee County Georgia area you might also run into her at many of the local festivals and farmers' markets.
Thanks again, Merrily, for an enjoyable and informative Saturday morning. We can't wait to visit your gardens and pick up our daylilies, phlox, and hostas for the new property!