This Beet Juice Cocktail is surprisingly addictive.  A Vitamix blender
is all you need to be minutes away from a refreshing, nutrient-dense libation.  Using fresh, organic ingredients is paramount to creating the healthiest version of this recipe.  Also, the salt is a key ingredient. Do not omit it unless you must.  It takes the whole experience from being merely palatable to absolutely delicious! When you are finished creating your cocktail, don't discard the pulp.  Instead, use it to make Beet Crisps in your dehydrator.
For the crisps recipe click here.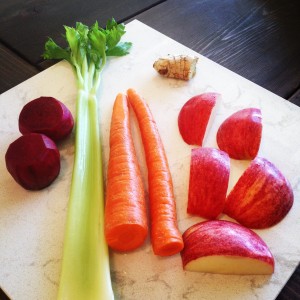 Ingredients For Cocktail:
2 organic beets, washed and peeled
2 organic carrots, scrubbed and ends discarded
1 organic celery stalk, washed
1 organic apple, cored and quartered
1 -2 inch pieced of fresh organic ginger, peeled (according to taste)
Filtered water (enough to cover ingredients)
5 ice cubes made from filtered water
generous pinch of Real Salt or Himalayan Salt (to taste)
Directions:
Add all ingredients (including ice) into Vitamix blender.
Blend for 30-60 seconds, or until all ingredients are completely liquified.
Strain out the pulp using a fine mesh sieve or a nut milk bag. (Save the pulp for the Beet Crisps Recipe)
Pour over more ice and savor the taste of pure nutrition infiltrating your body!