A couple of weeks ago we wrote a post about a class we attended at Ladyslipper Rare Plant Nursery taught by Farmer's Organic.  Yesterday we had the privilege to attend another class, this time led by the renowned Hans Rueffert.  Hans is the chef and owner of Woodbridge Inn in Jasper, GA.   Hans comes with a list of credentials including appearing on Next Food Network Star, CNN, and The Doctors.  The biggest reason this chef has my ear, however, is his triumph over aggressive cancer.  This man was given a 2%  chance of survival and was told on several occasions that he would not live beyond 24 more hours. Hans emphasizes food quality above food quantity and approaches his meals with a different twist on carpe diem – "Eat like there's no tomorrow."  Something to think about!
The class was extremely interesting and well worth a Saturday morning.  Hans shared a wealth of information on the role food plays in our health, especially as it relates to cancer prevention and recovery. He specifically mentioned the cancer-fighting benefits of eating sulfur-rich foods like kale, cabbage,  broccoli, and cauliflower.  He also discussed incorporating tumeric into dishes to combat cancer.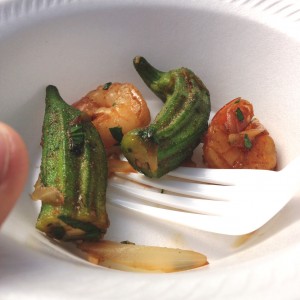 Hans graciously prepared a delicious okra and shrimp dish that was a hit with the attendees. He flash-cooked the okra and shrimp on a Portable Induction Cooktop
, along with some fresh onions, garlic, and herbs.  At one point in his demonstration he was snipping at stalks of summer celery that  Lady Slipper had sitting on the counter behind him. How's that for farm to table?  The surprise ingredient was a drizzle of honey at the end.  Who knew okra could taste so good? Outstanding!
On a side note, Hans was cooking with no oil but was not using a Teflon non-stick pan.  He briefly discussed the dangers of cooking with Teflon and had some recommendations of what to use instead.  He suggested a "green pan", any well-seasoned cast iron,  or a product like Le Creuset
. (Did you know that birds and small rodent pets can die from inhaling the fumes of things cooked with a Teflon coating?).
Hans has authored a book titled Eat Like There's No Tomorrow
.  It is full of the kind of recipes that make you whole with a smile.  The personal stories make it a lovely read, and the pictures are gorgeous!  Hans was kind enough to autograph our book with a special touch.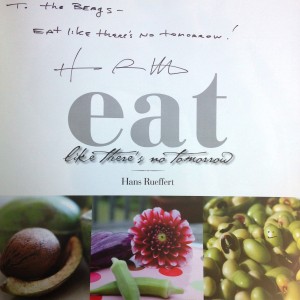 If you look close, you can see that one of the black-eyed peas is smiling.  So appropriate coming from a guy with such a positive attitude!  I highly recommend this book.  You can order a copy of his book from  Amazon.com  here
.
Hans also has a blog at Hanscooks.com.  The blog chronicles his endeavors with life, family, and food.  If you or a loved one is struggling with cancer, his blog would be particularly interesting for you.
Hans speaks all over the world on both food and his triumph over cancer.  Here is a quick sample of Hans that gives you an idea of his presentation style and great sense of humor: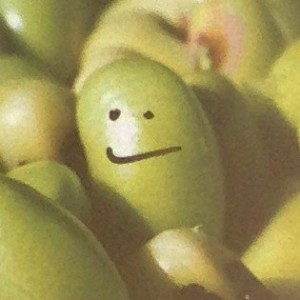 I am only a brief read into his book but it's quickly becoming one of my favorite cookbooks…you can order a copy from Amazon at the link below: