When we decided to start over from scratch with a new house design we were torn between which designer to hire.  We ultimately decided to go with the designer our builder recommended – Josh Hardy, the owner of CADD Drafting Services.  We reached out to Josh in early March.  He had reservations about taking on our project as he was extremely busy at the time.  He warned that he wouldn't be able to start for a couple weeks but he also said that once he started he would able to complete the house in just a couple weeks.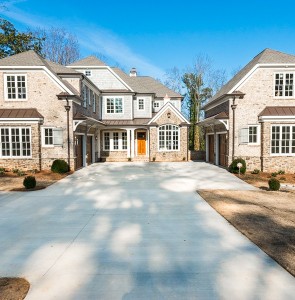 We were impressed with the example house he showed us that he designed in Buckhead and felt comfortable with the timeline so we agreed to move forward with him as our designer.
We are so thankful we decided to go with Josh for the new design!  Josh did an amazing job of interpreting our desires but he also recommended changes that would ensure the house meets building codes, is affordable to build, and is aesthetically pleasing.  The thing we liked best about Josh was that if he said he would have a revised version to us on Tuesday then he had it to us on Tuesday.  He was always on time and delivered amazing results!  Josh never made us feel like we were a burden and always took the time to make sure he understood our requests.  We highly recommend Josh if you are looking to design a new home or remodel an existing home.
If you would like to see the house plans Josh drafted for us you can view pictures of the plans and elevations HERE.