Every year our church does a fundraising campaign called "Be Rich".  The term "Be Rich" comes from 1 Timothy 6:18 –  "Command them to do good, to be rich in good deeds, and to be generous and willing to share."  Its one of my favorite things our church does each year. 
Here is the 2013 Be Rich celebration video:
Be Rich 2013: Celebration from North Point Media on Vimeo.
Part of Be Rich is raising money and donating food but my favorite part is the volunteer hours our church provides to organizations throughout our community and all around the world.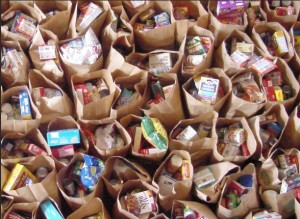 This year Haven and I signed up to volunteer at North Fulton Community Charities (NFCC).  I have not volunteered there before so I didn't know much about their ministry or what to expect.  I am so thankful I was able to be a part of their team yesterday. Haven and I unpacked and sorted donated food into crates that are then used to stock their food pantry and provide groceries to hundreds of local families every day.  I was so happy to hear about the participation of local businesses like Publix, Kroger, Trader Joes, Panera Bread, and Costco, all donating food every day!  The NFCC food pantry was like a factory with donations streaming in and then right back out to those that desperately need them.  If you live in the Atlanta area and are looking for a worthy organization to donate your time and money to, I highly recommend North Fulton Community Charities.  You can learn more about NFCC's mission and how to get involved on their website – http://nfcchelp.org.
If you would like to learn more about Be Rich and get involved just go to http://howtoberich.org and check it out.  Here is a summary of what just happened in the last month during Be Rich: