My wife and I are capturing the steps involved in building a custom home.  Test pits and soil tests are not the most glamorous or interesting steps to write about but they are both important steps in reducing risks by understanding the reality of the build site.
During the purchase of the land we performed a level 3 soil study and validated that the property could support a septic system for a six bedroom home.  The soil tests showed that we may require a more expensive septic system (one with an aerobic treatment unit) if more suitable soil could not be located on the property. We probably should have dug test pits at that time but we liked the property so much that we knew we would proceed with the purchase regardless of any potential test pit results .  The perc test passed and we were willing to give up a basement if required so we concluded the due diligence process and proceeded with the land purchase.  We decided to postpone test pits until we were closer to the actual build.
Now, a year or so later, we have finally selected the exact build location for the house and the proposed location for the septic tank, primary drain field, and secondary drain field.  We decided to proceed with test pits and further soil tests for two primary reasons:
1) to determine if more suitable soils could be discovered for the septic fields
and
2) to determine the risk of encountering rock during the excavation of the basement.
The test pits and soil tests were performed by Glenn Sofge of AAA Environmental Solutions.  Here are some pictures taken during the digging and testing:
Unfortunately, we were unable to locate a better location for the septic drain fields but we were able to validate that the excavation should go smoothly as no large rocks were uncovered in any of the test pits.  The test pits and soil tests resulted in a report that details the soils found and their depth to bedrock, absorption rate, soil suitability code, etc.  Here is a picture of one page of the report highlighting the locations of the test pits and the primary soil types and locations: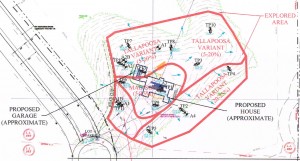 And here is the septic system plan showing the proposed locations for the two tanks, two ATUs, and primary and secondary drain fields: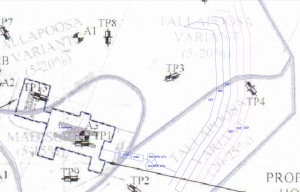 If you have any questions about the process please leave a reply and I will do my best to answer your questions.  If you are considering purchasing land or building in the north Atlanta area I highly recommend reaching out to Glenn for any soil evaluation needs you have.  His contact information can be found on his website – AAA Environmental Solutions.