These whole wheat bread machine cinnamon rolls are simpler than you might think! The bread machine makes fresh,  gooey rolls attainable right from your very own kitchen!  Nothing compares to the yummy smell, and the kids have a blast helping to throw them together.  If you don't want to get up early enough to make them in time for breakfast,  you can assemble them the night before (except for icing them). Simply assemble the rolls according to the directions, cover with foil and refrigerate.  The next morning all you have to do is take them out of the fridge and allow them to set at room temperature for about an hour before baking and icing as usual.  Your family and your guests will thank you! I promise!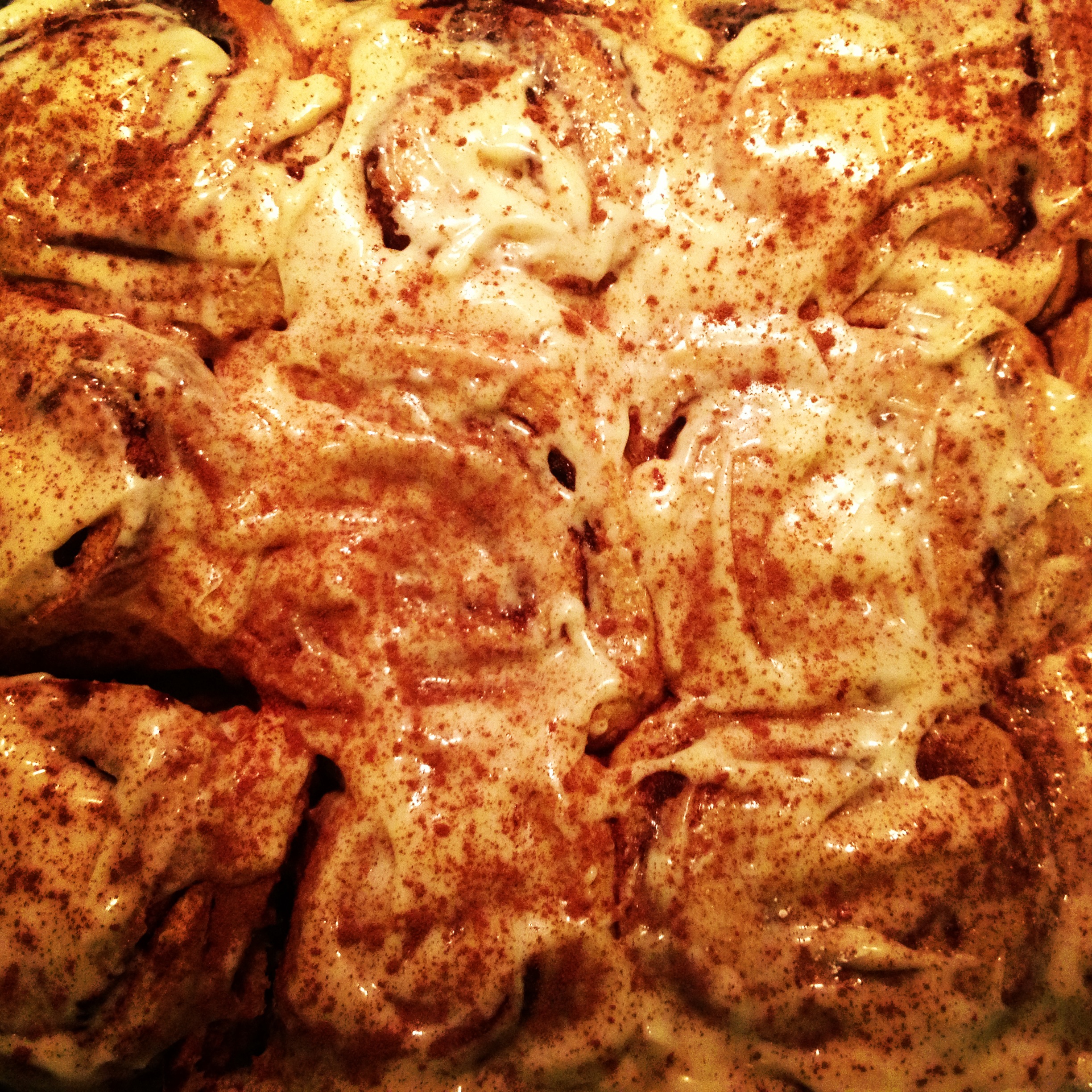 Ingredients
For the Dough:
1 cup warm organic whole milk
1/3 cup melted organic butter
1 TBSP vanilla
1 tsp Real salt
1/2 cup Sugar in the Raw
2 large organic eggs
3 cups organic hard white wheat, ground into flour (about 4.5 cups whole wheat flour)
1 heaping TBSP yeast
For the Filling:
1/3 cup organic butter, room temperature
1 cup of sucanat with honey or brown sugar
1/4 tsp Real Salt
4 TBSP cinnamon
1/2 tsp ground cloves
1/2 tsp ground ginger
1/2 cup chopped walnuts or pecans (optional)
1 organic apple, peeled and diced (optional)
For the Icing:
1/4 cup of organic butter, room temperature
4 oz. organic cream cheese, softened
2 TBSP vanilla
1.5 cups of powdered sucanat with honey or powdered confectioner's sugar
Instructions
For the Dough:
Add first 5 ingredients to bread machine pan and whisk until sugar dissolves
Add eggs.
Add flour on top of liquid mixture. Do not stir.
Make a well with a spoon on top of flour. Add yeast into the well.
Set on dough cycle (My bread machine takes 1 hour and 50 minutes for this cycle)
For the Filling:
Using a fork, crumble all ingredients together well in a medium-size bowl.
For the Icing:
Using an electric mixer, blend all ingredients until creamy.
For Assembling the Rolls:
When dough has completed the dough cycle in the bread machine, dump out onto a large oiled, rimmed cookie sheet.
Roll out into a rectangular piece of dough, filling the bottom of the cookie sheet completely and being careful to have a uniform thickness throughout.
Sprinkle the filling mixture evenly over the entire rectangle
Starting with the long side of the rectangle, roll the dough into one long, tight log
Using a serrated or very sharp knife, cut the log into twelve even slices of dough discs
Place dough discs in a greased 13 x 9 casserole dish and cover with tin foil.
Allow to rise for 45-60 minutes
Preheat oven to 400 degrees F
Bake rolls, covered for 15 minutes
Uncover rolls and bake for 5-10 minutes more (check periodically for desired done-ness)
Distribute icing evenly among the rolls while they are still hot