These whole wheat brownies with chia seeds and pistachios are perfect for you sweet-and-salty chocolate lovers!  And you don't have to feel guilty since they are also made with whole grains and fiber-rich chia seeds.   If you like even more salt to your sweet, you can sprinkle a little kosher salt on top before you pop them in the oven.  The feel of these brownies are more cake-like than fudge-like.  They have just the right texture , and are perfect served with a glass of icy cold milk!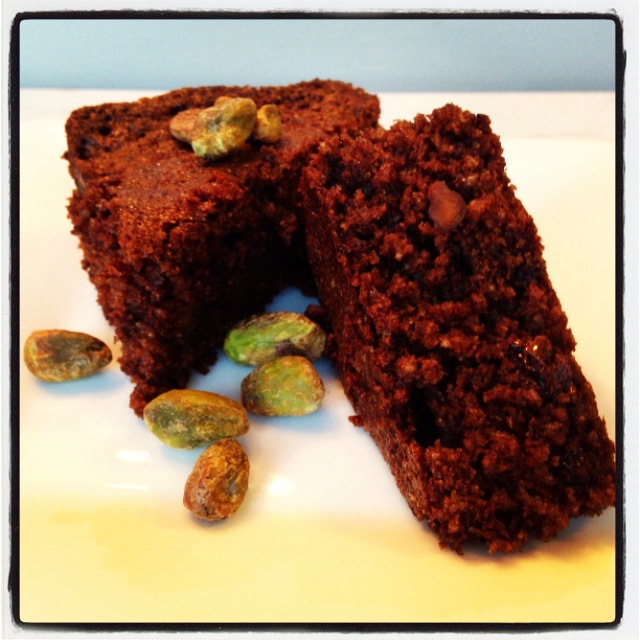 Ingredients
1 cup organic soft wheat berries (or use 1 1/2 cups whole wheat flour)
1 TBSP organic chia seeds
4 TBSP water
2 cups fine raw sugar or sucanat with honey
1 cup organic salted butter, melted and cooled
1/2 cup cocoa powder
3 tsp pure vanilla extract
4 organic eggs
1/2 tsp baking powder
1/4 tsp baking soda
1/2 tsp Real salt
1/2 cup salted pistachios, chopped
1/2 cup organic chocolate chips
coarse Kosher salt (optional)
Instructions
Preheat oven to 350 degrees Fahrenheit.
Grease a 13×9 baking dish with cooking spray.
Grind wheat into flour using a grain mill. Set aside.
Grind chia seeds into a flour using a personal blender.
In a small separate bowl, mix the chia seed flour and 4 TBSP of water and let sit
Using a hand mixer, blend the melted butter, sugar or sucanat, cocoa powder, vanilla, eggs, baking powder, baking soda, and salt. Blend until mixed well.
Add chia and water mixure and blend until incorporated.
Add flour and blend once more until incorporated.
Stir in pistachios and chocolate chips. Mix well with spoon.
Spread evenly into greased baking dish
Sprinkle with coarse Kosher salt if you like a salty/sweet brownie
Bake at 350 degrees for 35-40 minutes or until brownies are set in the middle.