This recipe is not difficult, but it does take a lot of time.  I usually divide the prep into two separate days.  I make the chicken and stock on the first day.  On the second day I make the mashed potatoes and use the stock  and chicken from the first day to create the creamy chicken vegetable mixture. Then I assemble the casseroles and freeze. It's a major investment of time but it yields five 9×13 pans of delicious, quick dinners you can grab out of the freezer and throw in the oven for a yummy, hearty meal at the end of a long, hard day.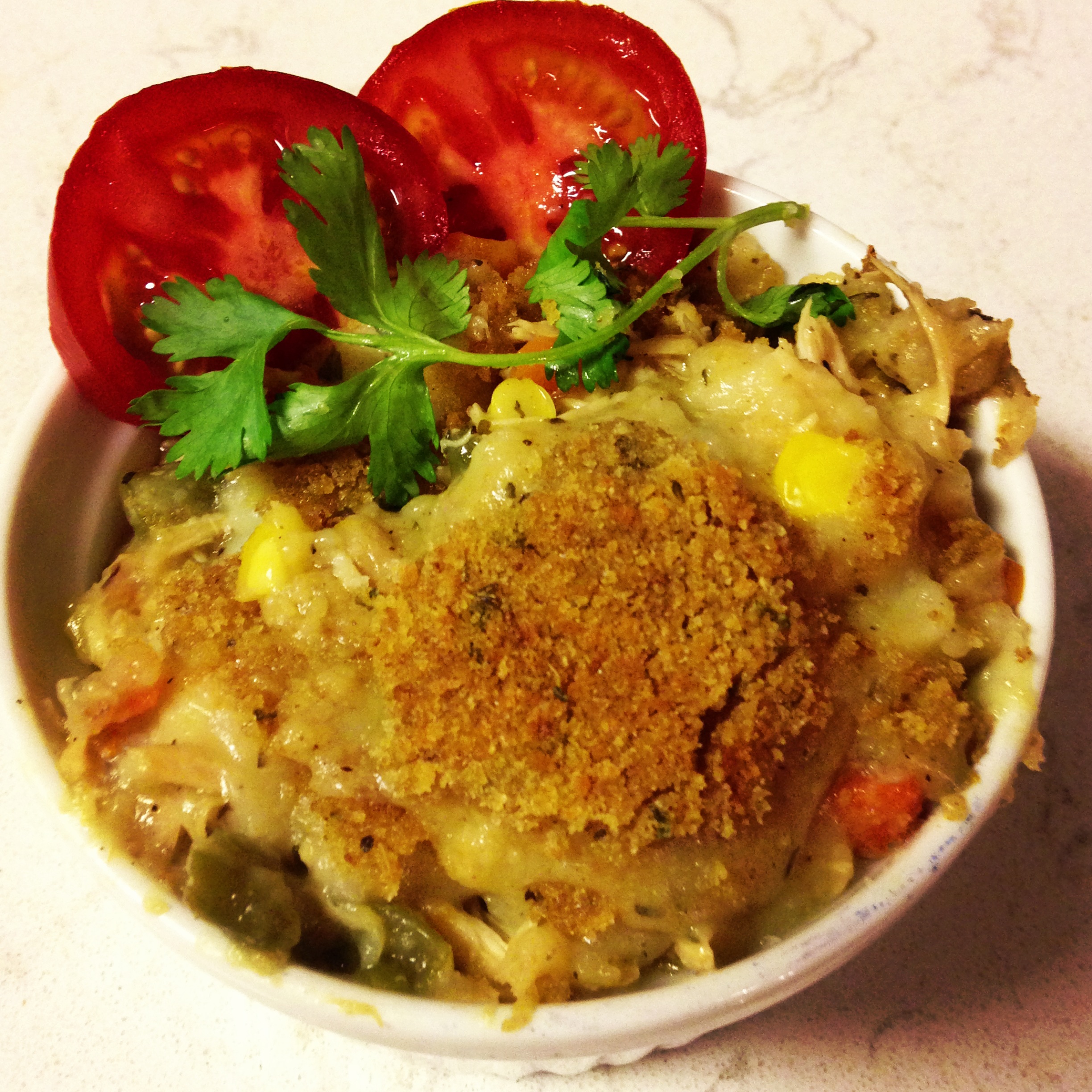 Ingredients
For Chicken and Stock:
Four 4 pound whole organic chickens
3 pounds of organic chicken necks, wings, pieces, etc.
1 bunch of organic celery, washed
16 ounces of organic carrots, washed and ends cut off, snapped in half
1 bunch fresh organic parsley, rinsed well
1 bunch fresh organic thyme, rinsed well
2 organic onions, peeled and quartered
1 head of organic garlic, peeled and separated into cloves
For the Mashed Potatoes:
20 pounds organic potatoes (I use Yukon gold)
32 ounces organic sour cream
4 sticks organic butter
6 TBSP raw sugar
1 TBSP Real natural salt
For the Creamy Pot Pie Mixture:
Reserved chicken stock from previous day
1 bunch of organic chopped celery
1 12-16 ounce bag of shredded organic carrots
2 organic onions, chopped
1 head of organic garlic, minced
32 ounces organic heavy whipping cream
4 TBSP Real Salt (or to taste)
12 TBSP Sugar in the Raw
2 TBSP dried sage
2 TBSP dried thyme
2 TBSP dried basil
3 TBSP curry powder
1 TBSP dried mustard powder
1 TBSP freshly ground pepper
1-3 cups of millet (ground into flour)
Reserved pulled chicken
4 16 oz bags of organic frozen vegetables
1 16 oz. bag of organic frozen corn
For the Assembly:
Creamy Pot Pie Mixture from above
Mashed Potato Mixture from above
1/3 cup seasoned bread crumbs ( five separate 1/3 cup scoops to top each of five casseroles)
Instructions
For the Chicken and Stock:
In a a large stock pot place 4 organic chickens and cover with filtered water. Bring to a boil.
Reduce heat to a simmer. Cook the chickens at a low simmer for about an hour. Check periodically to make sure chicken is still covered with water and it is still simmering.
After an hour, check to see if chicken is done. Continue cooking until it is done if it is not done.
Carefully remove chickens from water and set aside until cool enough to handle. Do not discard water.
In the same stockpot in the same water add the three pounds of chicken pieces
Add carrots, celery, onions, garlic, parsley and thyme to stock pot.
Make sure all contents of stock pot are still covered in water and bring back to a simmer.
Once chicken is cool enough to handle, carefully pull meat from bones while making a separate pile of the fat, bones, and yucky stuff. Cover and refrigerate the pulled meat. Add the entire pile of fat, bones, and yucky stuff back into the stock pot.
Add water to cover contents of pot if necessary. Bring back to a boil.
Reduce heat to a low simmer. Cook at a simmer for 5 hours, checking periodically to make sure contents are still covered with water and are still simmering.
After simmering stock mixture for 5 hours, allow to cool for an hour or so. You can set pot in a sink of ice water to speed up the process if desired.
Discard large items from stock mixture.
Strain broth mixture into a very large container with a lid. I used a very large iced tea pitcher. Refrigerate overnight so that the fat separates and rises to the top. Skim the fat off the next day.
For the Mashed Potatoes:
While stock is simmering, fill another large stock pot with 24 cups of water and 2/3 cup salt.
While the salted water is coming to a boil, peel and quarter 20 pounds of potatoes.
Add potatoes and boil gently for 15-20 minutes (or until done). Do not allow potatoes to become mushy.
Drain potatoes and return to empty stock pot.
Add 32 oz. sour cream and 4 sticks of salted butter. Mash well with a potato masher.
Add sugar and salt and mix to incorporate very well. If desired, use a hand-held mixer for this step.
Cover and refrigerate until assembly.
For the Creamy Chicken Pot Pie Mixture:
Add chopped celery, carrot, onion, and garlic to large stock pan. Saute for 5-10 minutes, or until translucent.
Add all of the chicken stock from the previous day.
Add in all of the herbs, seasonings, and sugar.
Bring to a boil.
Add reserved chicken. Simmer for 5 minutes.
Add heavy whipping cream. Bring back to a simmer.
Mix the millet flour with water in a separate vessel in a 1:1 ratio.
Gradually add the millet/water mixture 1 cup at a time until desired thickness is desired. After adding each cup, allow to simmer and thicken for two minutes at a time. (Do not add entire mixture at once or you may get a gloppy mess that is too thick.
Add frozen veggies and corn.
For the Assembly:
Distribute pot pie mixture evenly among five greased 9 x 13 freezable casserole dishes.
Distribute mashed potato mixture evenly on top of pot pie mixture in the five casserole dishes.
Top each casserole with 1/3 cup seasoned bread crumbs.
Cover with tinfoil and lid.
Label and Freeze
Notes
If baking immediately:
Bake at 350 degrees for 45-60 minutes.
If freezing:
Cover with tinfoil in a freezer-safe casserole dish and label. Cover with freezer lid and freeze. On the day of cooking, you can either thaw completely and cook as above, or you may cook from frozen (unless you are using a glass casserole dish) at 350 degrees for 3 -4 hours.