The first time I had these Cowboy Beans I was blown away.  They are the perfect combination of hearty, comforting, and tasty!  Nutritionally, they are packed with a load of protein and fiber .   They even have a hefty bit of veggies added. To keep things as healthy as possible,  use organic, nitrate free bacon and chorizo sausage.  Even better, use a chicken or turkey version of the bacon and sausage if you can find it (although the flavor will be somewhat different).  These beans are absolutely lovely and the most satisfying when served with the suggested toppings.  If you want to make this dish even better, pair the beans with  Sweet Whole Grain Corn Muffins with Jalapenos.  I dare you to try this. You'll never look at beans the same way again!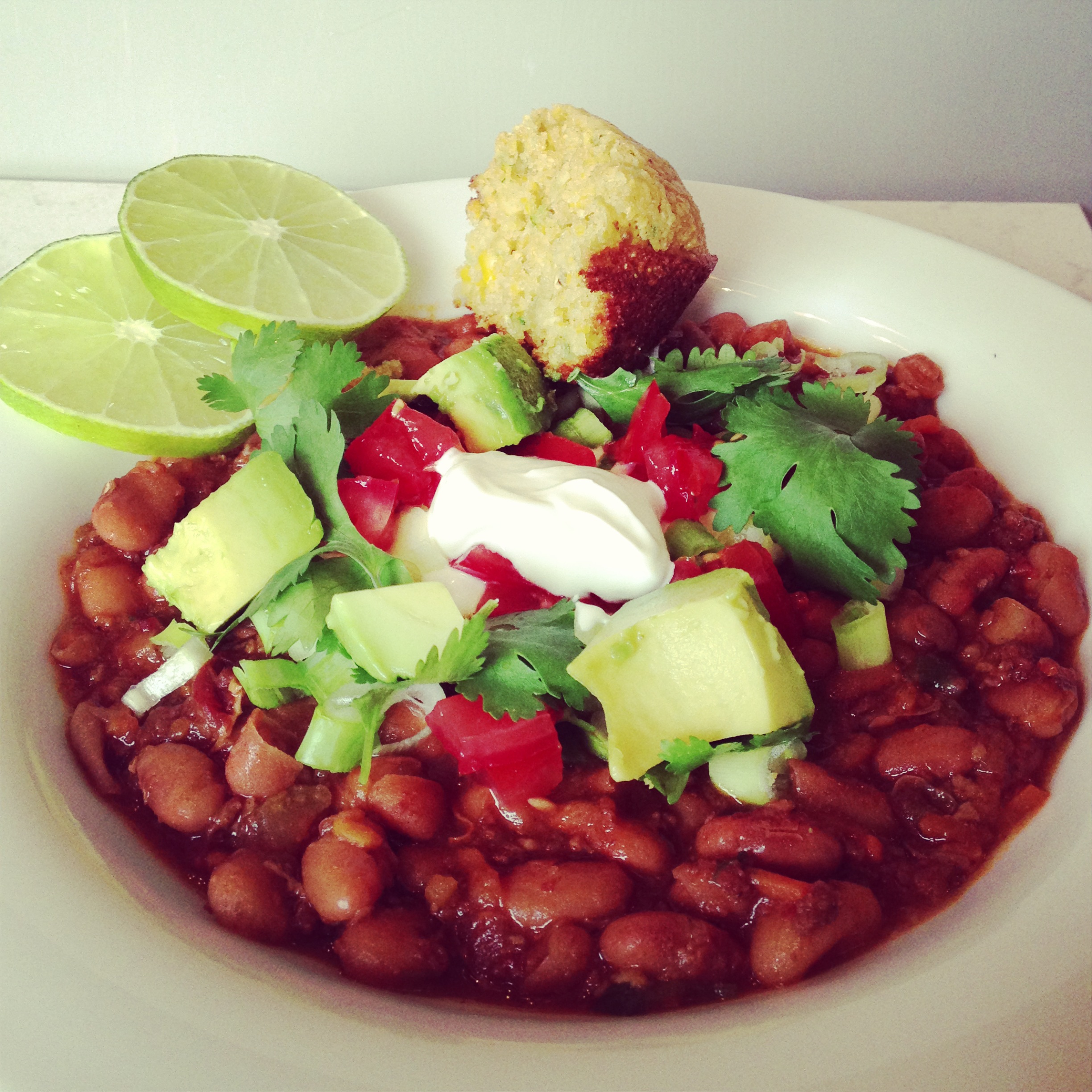 Ingredients
For the beans:
2 pounds organic dried pinto beans, rinsed and picked over
7.5 ounce can of chipotle peppers in adobe sauce, pureed in a personal blender
3 organic tomatoes, diced
16 ounces organic chorizo sausage (nitrate free), removed from casing
12 ounces organic smoked bacon (nitrate free) chopped (I used my kitchen shears).
2 TBSP olive oil
2 organic Vidalia onions, diced
3 stalks organic celery, diced
10 ounces organic shredded carrot (can use a pre-shredded package if you wish)
5 cloves of organic garlic, minced
1 organic Poblano pepper, seeds and membranes removed, chopped
32 ounces of organic broth (I used beef)
1 TBSP Real Salt
4 TBSP Sugar in the Raw
16 ounces of Beer (I used 16 ounces)
For the toppings:
2 fresh organic tomatoes, diced
2 stalks of organic green onions, chopped
1 bunch of organic cilantro, rinsed and chopped
1 organic avocado, diced
8 oz. organic sour cream
fresh organic lime slices
Instructions
In a large soup pot, add oil, onion, celery, carrot, poblano pepper, and garlic. Saute over medium heat, stirring frequently, until translucent. You may have to turn down heat or add 1/4 cup of water periodically to protect against scorching.
When vegetables are softened and translucent, add broth and bring to a simmer.
Add beans, pureed chipotle peppers, tomatoes, salt, and sugar.
Add water to cover the beans, cover pot, and bring back to a simmer.
Meanwhile, add bacon and chorizo sausage to a large saute pan. Saute over medium high heat until bacon is done. This step takes awhile.
When bacon and sausage are done, add to the simmering pot. Add any water necessary to make sure all ingredients are still covered in liquid.
Cover pot and simmer for 1 hour.
Add beer.
Cover pot and simmer for 60 minutes to 90 minutes more (according to how soft you like the beans)
Remove from heat and garnish with toppings of your choice.