All I can say is WOW.
Last month my husband and I had the opportunity to attend a product demonstration at the Sub-Zero and Wolf Showroom in Atlanta.  We were expecting to see the products.  We were expecting to taste food samples.  What we actually experienced FAR exceeded these expectations.  We enjoyed a fun-filled evening of wine, fine dining, and a top-notch cooking demonstration with Wolf's talented and personable chef, George.
The night went something like this.  We arrived around 6:20 for the 6:30 event. As we ascended the stairwell we were amused by the retro tribute to the Sub-Zero legacy. Take a look for yourselves.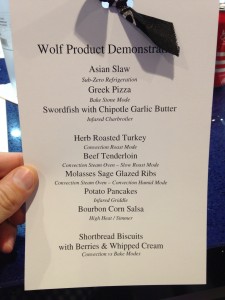 Once upstairs, we were directed to the bar area for beverages of our choice. We explored the breathtaking showroom until everyone started settling in around the demonstration area.  At each place setting was a menu for the evening.  It was obvious that we had a lot to look forward to.
We were not disappointed.
We were graciously served all of the courses while the Sub-Zero/Wolf spokesman gave an informative session on the history of the company and some insights as to why choosing Sub-Zero/Wolf appliances would be a prudent decision.  Once all courses were served, it was time for Chef George…. the true highlight of the night.
Chef George proceeded to prepare the dishes we had just enjoyed right in front of us on the Wolf appliances.  We all watched intently as he charbroiled, sauteed, steamed, and convection-roasted a number of delights.  Some of the products he featured were the infrared char-broiler, the infrared griddle, the gas range cook-top, the convection wall oven, the combination steam convection oven (my personal favorite), the electric cook-top, and the induction cook-top.  It was extremely interesting to see in person the range of possibilities offered.
After the demonstration there was some question and answer time as well as time to browse the showroom once more.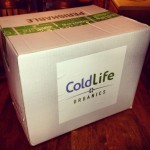 As an added bonus, each person was gifted a huge box of fresh organic produce from ColdLife Organics. You can read about what I did with that box HERE.
If you are considering purchasing Sub-Zero or Wolf appliances, it would be worth your while to attend one of the demonstration evenings.  The sessions are offered once a month. They are friendly and informative and you will be very glad you went. Very.