This is a delicious, wholesome variety of homemade organic chicken soup that contains nothing artificial.  There are no boxed broths or msg-laden boullions involved (will be even better when I can use our own farm-raised chickens).  It is truly lovely to indulge in bite after bite of everything that is good and nothing that is not.  Although this recipe has many steps and is a two day endeavor, all of the steps are easy.  If you try this even once, I am sure it will go to your list of favorites.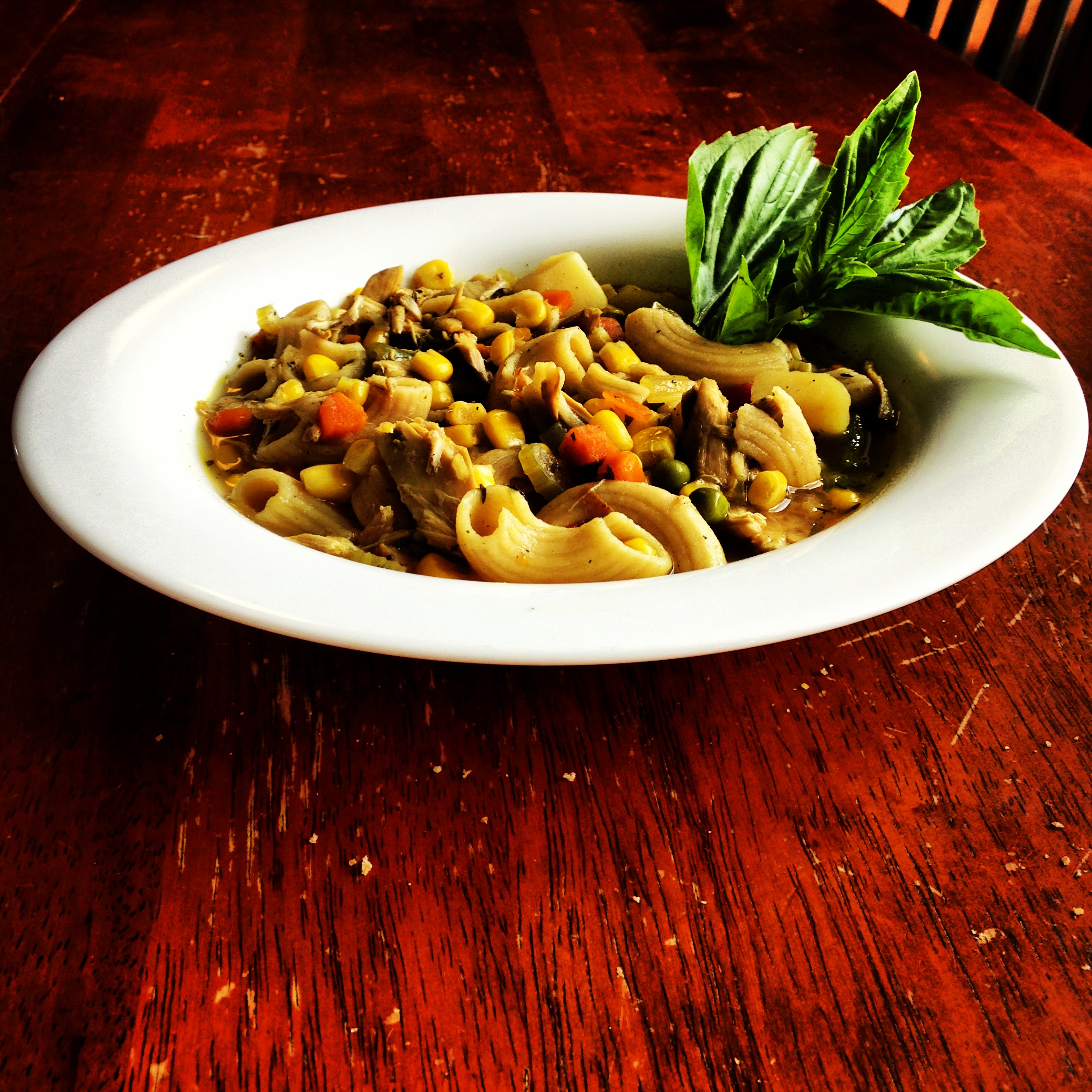 Ingredients
For the first day:
3-5 lb whole organic chicken (with giblets)
1 organic head of garlic, peeled and separated into cloves
2 organic onions, cut into quarters
1 bunch organic celery, snapped into halves
1/2 pound organic carrots, snapped into halves
1 bunch of organic fresh parsley, rinsed well
1 bunch of organic fresh thyme, rinsed well
For the second day:
2 organic onions, diced
1 bunch of of organic celery, diced
1/2 pound of organic carrots, diced
3 TBSP Real Salt (or according to taste preference)
1 TBSP onion powder
1 TBSP curry powder
1 TBSP dried sage
1 TBSP dried thyme
1/2 tsp chipotle powder
4 TBSP organic raw sugar
2 pounds organic potatoes, peeled and diced
8 ounces whole wheat spiral pasta
16 ounce bag of frozen organic vegetables (I use the pea, carrot, corn, bean package)
16 ounce bag frozen organic corn
Instructions
For the first day:
Place whole chicken along with giblets into a large stock pot. (Make sure to remove the giblets from any inner packaging that may have been used)
Add quartered onions, garlic, halved celery and carrot pieces.
Add the fresh parsley and thyme bunches.
Cover all contents with purified water to an inch or two above the ingredients.
Cover and bring to a boil.
Reduce heat and simmer for about an hour.
Carefully remove the whole chicken from the stock pot.
When cool enough to handle, separate the meat from the bones and fat and the "yucky stuff".
Add the fat and the bones back to the stock pot.
Place the pulled chicken in a covered dish or Ziploc back in the refrigerator for the end of the recipe.
Bring the contents of the stock pot back to a simmer.
Simmer for 7-8 hours over low heat. Be careful to check occasionally to make sure that all contents are still covered with water. Add purified water as necessary to keep everything under liquid.
After stock has simmered all day, remove from heat and remove all large chunks and bones from stock pot.
Allow to cool completely.
Strain broth over a large refrigerator-safe container and cover.
Chill overnight or until fat and broth have completely separated and the fat layer has become solid.
For the second day:
Remove the chilled stock from the refrigerator and skim the solid layer of fat off of the top.
In a large stock pot, add the diced onion, carrot and celery and saute on low until veggies start to become translucent.
Add reserved stock, salt, onion powder, curry powder, dried sage, dried thyme,chipotle powder, and raw sugar.
Add reserved pulled chicken from previous day.
Bring all contents to a boil.
You may need to add purified water periodically to keep all contents under liquid.
Add diced potatoes and reduce heat to a simmer for about 8 minutes.
Add whole wheat pasta and bring back to a simmer for about 8 more minutes.
Add frozen veggies and corn and bring back to a simmer.
The soup is done when the frozen vegetables are done to your preference.
Add additional seasonings to taste.