This is truly a decadent chocolate cake!  The added bonus? It includes yummy, nutritious ingredients such as quinoa, lucuma, and chia seeds.  No one will ever guess that this indulgent dessert is loaded with a dose of wholesomeness, too. We were invited to a pot luck meal last year where everyone was supposed to bring a "healthy dish".  We brought this chocolate quinoa cake and people gave us grief about not complying with the request for healthy items only.  They were extremely surprised to find out that the cake was made primarily of quinoa and that most of the ingredients are nutritious.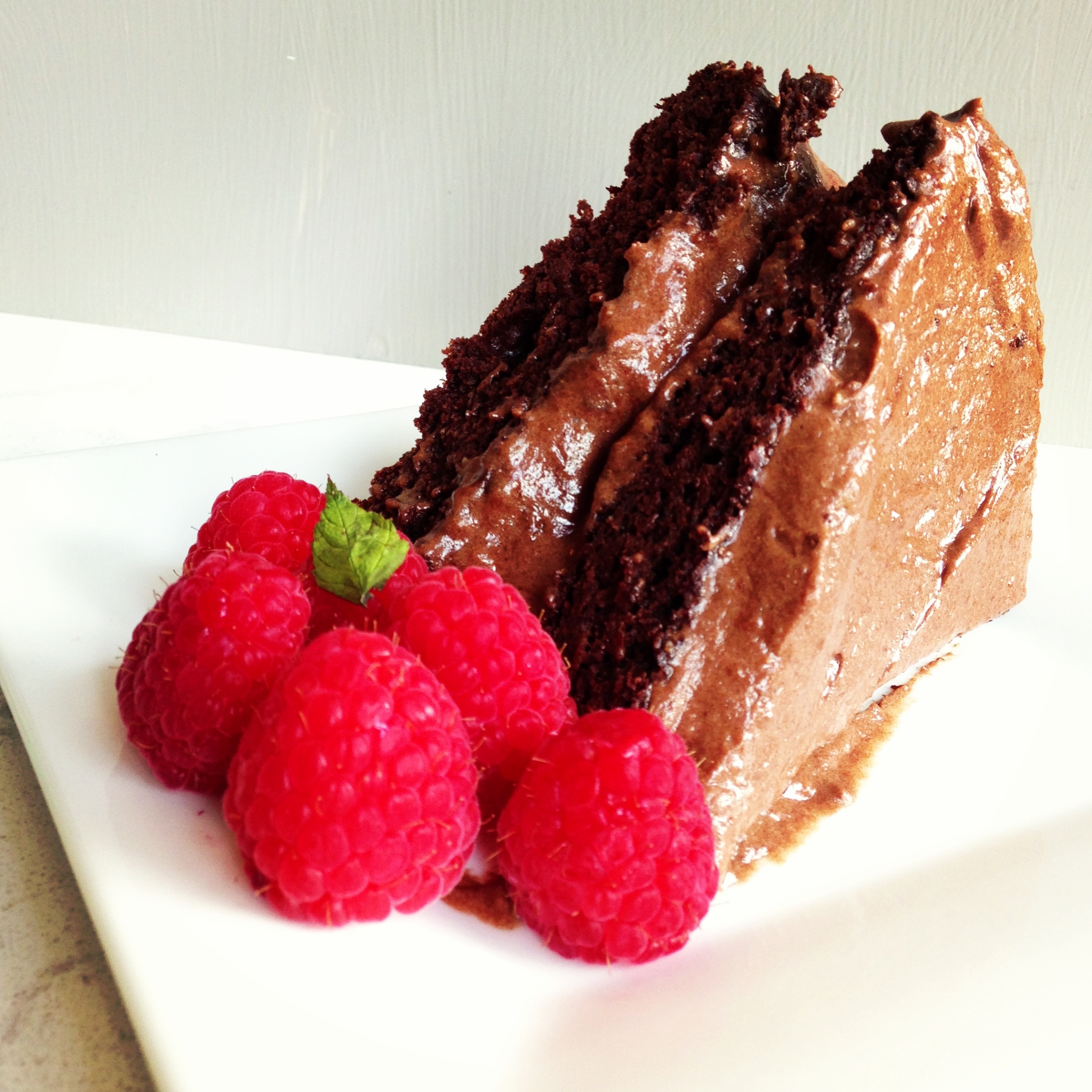 Ingredients
For the Cake:
For the Icing:
1/2 stick (4 Tbsp) of organic butter (room temperature)
2 8 oz. packs of organic cream cheese (room temperature)
2 1/2 cups powdered sucanat with honey (powdered sugar or fine raw sugar may be substituted)
3 tsp organic vanilla
1/2 tsp natural salt
2 TBS organic chia seeds, ground by a personal blender
1/4 cup organic milk
1 cup organic cocoa powder
1/3 cup organic lucuma powder
12 oz. organic heavy whipping cream
Instructions
For the cake:
Rinse quinoa thoroughly.
Bring 1 1/3 cups of water to boil on stove and add quinoa. Cover and simmer for about 10 minutes. Remove from heat and allow to set for 15 minutes. Alternatively, you can cook the quinoa in a rice cooker. (Add quinoa and water to cooker and cook using the quick cooking cycle).
Remove quinoa from pot and allow to cool.
Meanwhile, preheat oven to 350 degrees F.
Spray two 9 inch round cake pans with cooking spray.
Trace the pans onto parchment paper and cut out two nine inch parchment circles and place on bottom of pan.
Grind the cocoa nibs in a personal blender. Set aside.
Add the milk, eggs, salt, baking soda, baking powder, and vanilla to blender. Blend until well combined.
Add the melted butter and only 2 cups of the cooked quinoa to the blender (there may be a little extra left over). Blend until an even batter is formed.
Add the sucanat with honey, cocoa, lucuma powder, and ground cocoa nibs to the batter mixture and blend until smooth.
Pour evenly between the two prepared pans. Batter will be extremely thick.
Bake for 40-45 minutes, or until center is set. Check frequently as all ovens tend to cook slightly differently.
Remove cakes from oven and allow to cool.
Carefully remove cakes from pan.
After making sure cakes are completely cooled, frost as desired.
For the Icing:
Cream the butter, cream cheese, powdered sucanat with honey, vanilla, and salt together until creamy.
Add ground chia seeds and milk and blend until incorporated.
Add cocoa and lucuma powder a little at a time and mix until incorporated. Set chocolate mixture aside.
In a separate bowl, beat the heavy whipping cream until soft peaks form.
Carefully fold the whipped cream into the chocolate mixture until combined.
Frost cake as desired.