These are quite possibly the best appetizers ever.  This is also the perfect kind of appetizer to make a whole bunch of ahead of time and have waiting in the fridge .  When your guests arrive, just pop them in the oven and you're ready to entertain!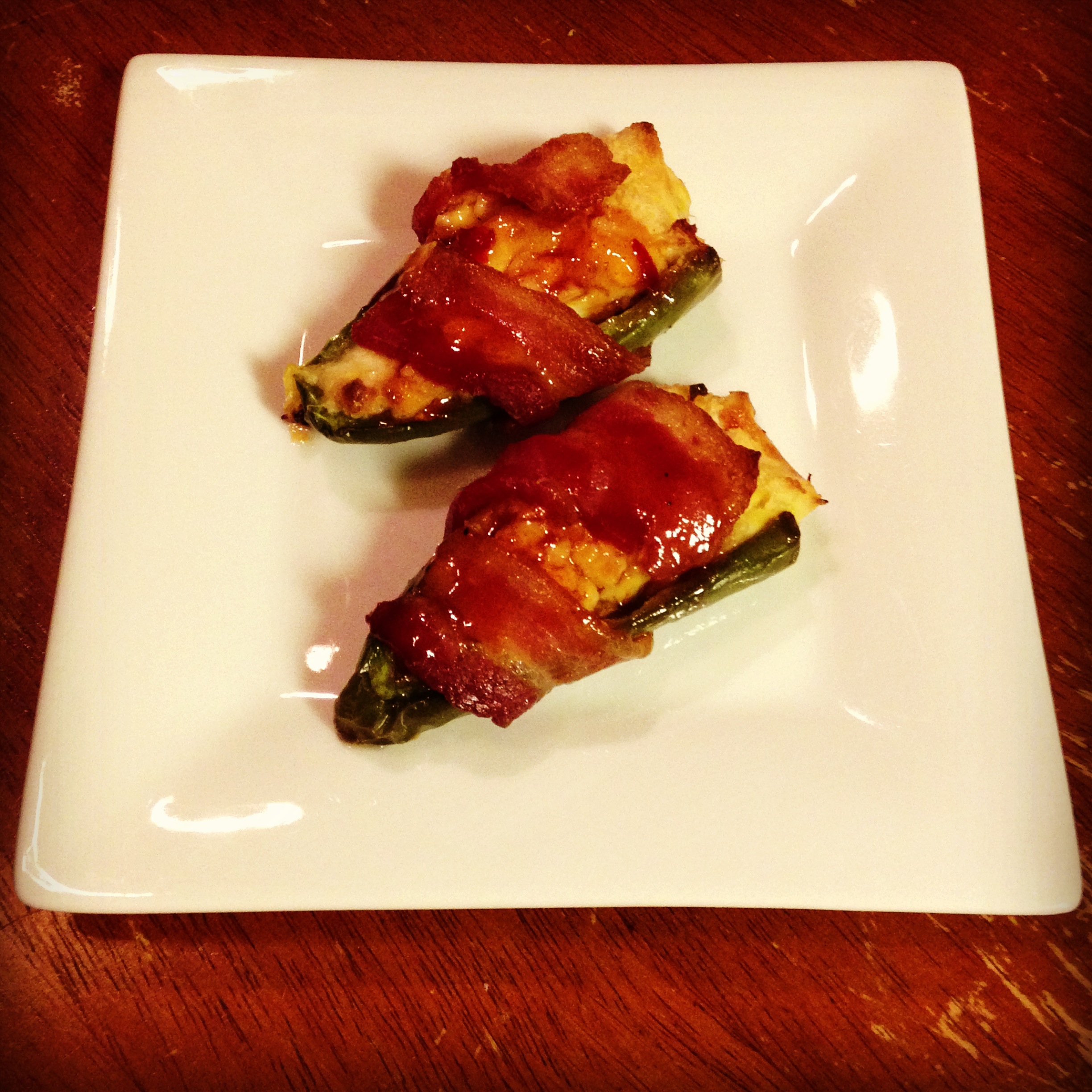 Ingredients
12 Fresh Organic Jalapenos
1 Package of Organic Cream Cheese
1 Can of Pineapple Tidbits (Drained very well through a strainer)
1 TBSP Onion Powder
1 TBSP Garlic Powder
12 oz package of uncured bacon (make sure package has 12 pieces of bacon)
2/3 cup of pineapple jelly
2/3 cup barbeque sauce
Instructions
Preheat oven to 375 degrees
Cut bacon pieces in half and set aside on plate
Cut ends off jalapenos. Cut jalapenos in half and scoop out membranes and seeds. Place cut jalapenos on a rimmed baking sheet.
In a separate bowl, mix cream cheese, pineapple tidbits, onion and garlic powder. Use a fork to mash and incorporate all ingredients well.
Spoon cream cheese mixture into each of the jalapeno halves and set back on the baking sheet,
Wrap one segment of bacon (half a piece) around each jalapeno half and set back on baking sheet.
Place jalapeno halves in oven for 30 – 40 minutes, checking for desired amount of doneness. Remove the appetizers when they are to your liking.
Meanwhile, while the jalapenos are cooking, whisk together the jelly and the barbeque sauce. Pour into a squirting-type squeeze bottle.
After removing jalapenos from oven, squirt a generous amount of the barbeque mixture on each appetizer.
Turn on the broiler.Place the appetizers under the broiler, supervising carefully, until the right amount of gooeyness and crispness has been achieved. (1-4 minutes)
I don't even need to say "Enjoy" on this one. It's unavoidable.