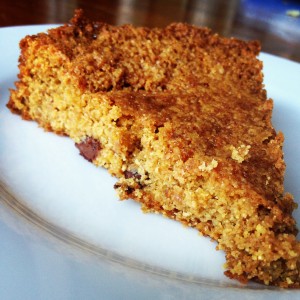 Ingredients
1 stick organic salted butter, melted and cooled
3/4 cup soft white wheat berries (or use 1 cup whole wheat flour)
1/4 cup organic flax seed
1 cup brown sugar
1 organic egg
2 tsp vanilla
4 TBSP organic maple syrup
1/4 tsp natural salt
1/2 tsp aluminum free baking soda
1/4 organic baking powder
1/4 cup of dark chocolate chips (optional)
Instructions
Preheat the oven to 350 degrees F.
Grind the wheat into flour in your Nutrimill
Grind the flax seed.
In a large bowl, combine the flour, flax seed, salt, baking powder, and baking soda
In a separate bowl, whisk the egg and vanilla together.
Continue to whisk the egg mixture while adding the maple syrup and and the melted butter.
Add the brown sugar to the wet ingredients while stirring to dissolve the sugar crystals.
Pour the wet ingredients into the dry ingredients and mix to fully incorporate.
(Stir in chocolate chips at this time if desired)
Spread the batter into a greased 8 or 9 inch round pie pan or Pyrex dish.
Bake for 25-30 minutes or until the center is firm to the touch and the edges are golden brown.