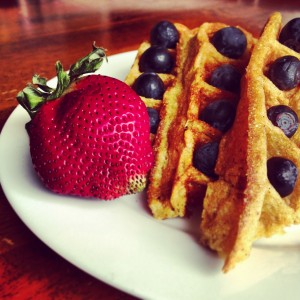 Ingredients
3 organic eggs
1 3/4 cups organic vanilla Greek yogurt
1 stick (8 Tbsp) unsalted organic butter, melted and cooled
8 tsp pure organic vanilla
1 1/4 cup soft white wheat kernels ground into flour (or 1 3/4 cup whole wheat flour)
3 Tbsp. flax seed (grind it into flax meal using a Tribest Personal Blender)
1 1/2 tsp aluminum free baking powder
1 tsp. baking soda
1/2 tsp natural salt
3/4 cup brown sugar
Organic Maple syrup
Assorted berries
Instructions
Add the wet ingredients and the brown sugar into a large mixing bowl and blend together using a hand mixer
Then add all the other ingredients and blend until mixed.
Make your waffles according to your waffle maker directions. I have an All-Clad waffle maker. On my maker, using 1/3 cup of batter per square and then baking them on setting 6 or 7 and waiting for the beep is perfect (six is a softer waffle and 7 ends up being a crispier waffle). I spray the waffle maker with coconut oil before each set.
Serve with organic maple syrup and berries as desired.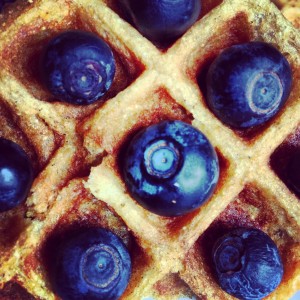 If you like this recipe please don't forget to share it with others by clicking on one of the social links below or by  "Liking" our Facebook Page. Thanks!