Prep Time: 20 minutes
Cook Time: 1 hour
Total Time: 1 hour, 20 minutes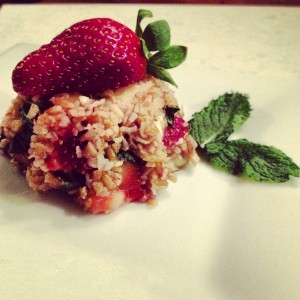 I distinctly recall the very first time I tried tabbouleh. It was in Morocco.
Okay… it was in Epcot's Morocco. It was way back when we had only two little ones to cart around Disney. We had stopped at one of the little sidewalk restaurants for a little respite from the sun and to have a little snack. At the time I had never even heard of the word tabbouleh. The entry on the menu board piqued my interest, and I just had to sample the salad with such an unusual name. As soon as that first spoonful crossed my lips, I was instantly grateful. The bright, flavorful mixture of herbs, grains, and citrus was intriguing. What a fresh new taste!
I have had many tabbouleh variations since then, and they have all been good. However, I recently decided to create a tabbouleh that even my kids would like. This is what I came up with.
Ingredients
1 cup whole grain quick-cooking whole wheat bulgur
1 cup boiling water
1 pound cooked chicken breast, chopped
1 pound pineapple, diced
8 oz strawberries, diced
1/2 cucumber, seeded, peeled, and diced
1 shallot, finely minced
1 0z. mint, cut into thin ribbons
1/4 cup garlic rice wine vinegar
1/4 cup fresh lime juice
1/4 cup teriyaki sauce
2 TBSP honey
1 TBSP Sugar in the Raw
1/2 cup Goat Cheese
Instructions
Pour boiling water over bulgur and let sit at least one hour.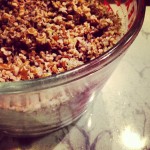 In a large bowl or serving platter l, toss the chicken, pineapple, strawberries, cucumber, shallots, and mint together.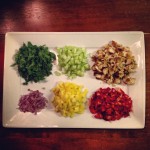 In a separate container, whisk the vinegar, lime juice, teriyaki sauce, honey, and sugar together until mixed well.
Pour over bulgur mixture and stir until evenly distributed.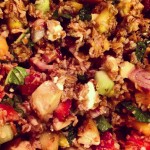 Garnish with goat cheese and strawberry slices if desired.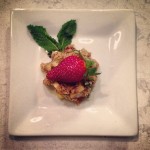 There you have it. Simple. Fresh. Healthy. And the kids loved it!