Potatoes are a unanimous favorite in our family.  We like them mashed, smashed, whipped, creamed, scalloped, fried, sauteed, roasted, baked, and even just boiled and salted.  Simply put, we love potatoes in whatever form we can get them!
HOWEVER, this next recipe for Au gratin potatoes (ahem . . . "Fantasy Potatoes")  is in a class all by itself.  Really.  You will never taste a more decadent, flavorful version of potatoes.  I promise.  The rewards are great for such a small amount of effort.
You will need:
1 sweet onion, finely diced
12 cloves of garlic, finely minced or pressed in a garlic press
3 cups of organic heavy whipping cream
1 cup of organic half and half
4 tsp natural salt
1/2 tsp freshly ground black pepper
3 TBSP sugar in the raw
2 TBSP dry mustard
1 tsp dry sage
1 tsp dry thyme
1 TBSP fresh rosemary (optional)
3 Bay leaves
4 pounds of well-scrubbed thinly sliced potatoes with skin on  (I sliced mine in my Cuisinart  food processor) Why do I leave the skin on?
1 cup organic sour cream
1 cup shredded sharp white cheddar
1 cup shredded Parmesan cheese
Preheat oven to 375 degrees Fahrenheit. In a large soup pot or Dutch oven, saute onions for 5-7 minutes, or until soft and translucent.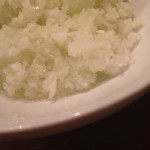 Add garlic and saute for two more minutes.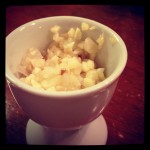 Add the whipping cream.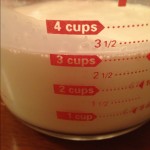 Add the half and half.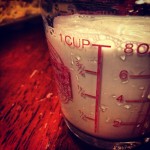 Add the salt and pepper.
Add the sugar.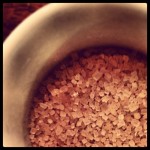 Add the mustard.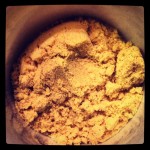 Add the sage.
Add the thyme.
Add the rosemary.
Add the Bay leaves.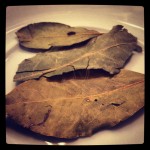 Bring all of the ingredients to a low simmer.  Add the potatoes and mix well.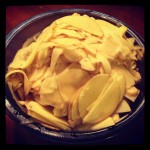 Turn the heat down to low and cover the potato mixture. Cook for about 15 minutes, stirring occasionally. If you do not stir every now and then, the mixture is likely to scorch.
REMOVE THE BAY LEAVES.
Fold in the sour cream and the two cheeses.  Mix well.
Transfer to a lightly greased 13×9 baking dish and cover.  Bake covered for 90 minutes.  Uncover the dish and return it to the oven for an additional 20 – 30 minutes, or until top is golden and the the edges are bubbly.
Be prepared to never think of potatoes in the same way again.