If you have ever been to a Brazilian steak house, you have likely not forgotten what is casually presented to patrons as "cheese bread". The servers dutifully come around with the platter of accompaniments . . . and then they nonchalantly list the cheese bread as if it's no big deal:
"Ma'am, would you like some fried bananas, yucca fries, or cheese bread?"
One might think that cheese bread is not noteworthy. That it is plain. Ordinary.  Humdrum.
And one would be wrong.
Words alone can not possibly convey the warm- cheesy- puffy- gooey nirvana that has been simply dubbed as cheese bread.  One thing is for sure, though.  Once you have tried it for yourself, you will yearn for more.
Unfortunately, most people do not have a Brazilian steakhouse around the corner – which was my ill fate.  So there I was, reminiscing those lovely, warm,  chewy-on the outside, gooey on the inside puffs.  I was certain that this culinary masterpiece was not a possibility in my humble kitchen and with my even humbler baking skills.  Little did I know how freakishly simple it was to throw these together.  After a little research I discovered that the recipe was quick, cheap, and entirely doable on a regular basis.  Let me share with you how to dupe your friends and family into thinking you are a Brazilian baker extraordinaire.
Here is my recipe for perfect Brazilian cheese bread – Pao de Queijo: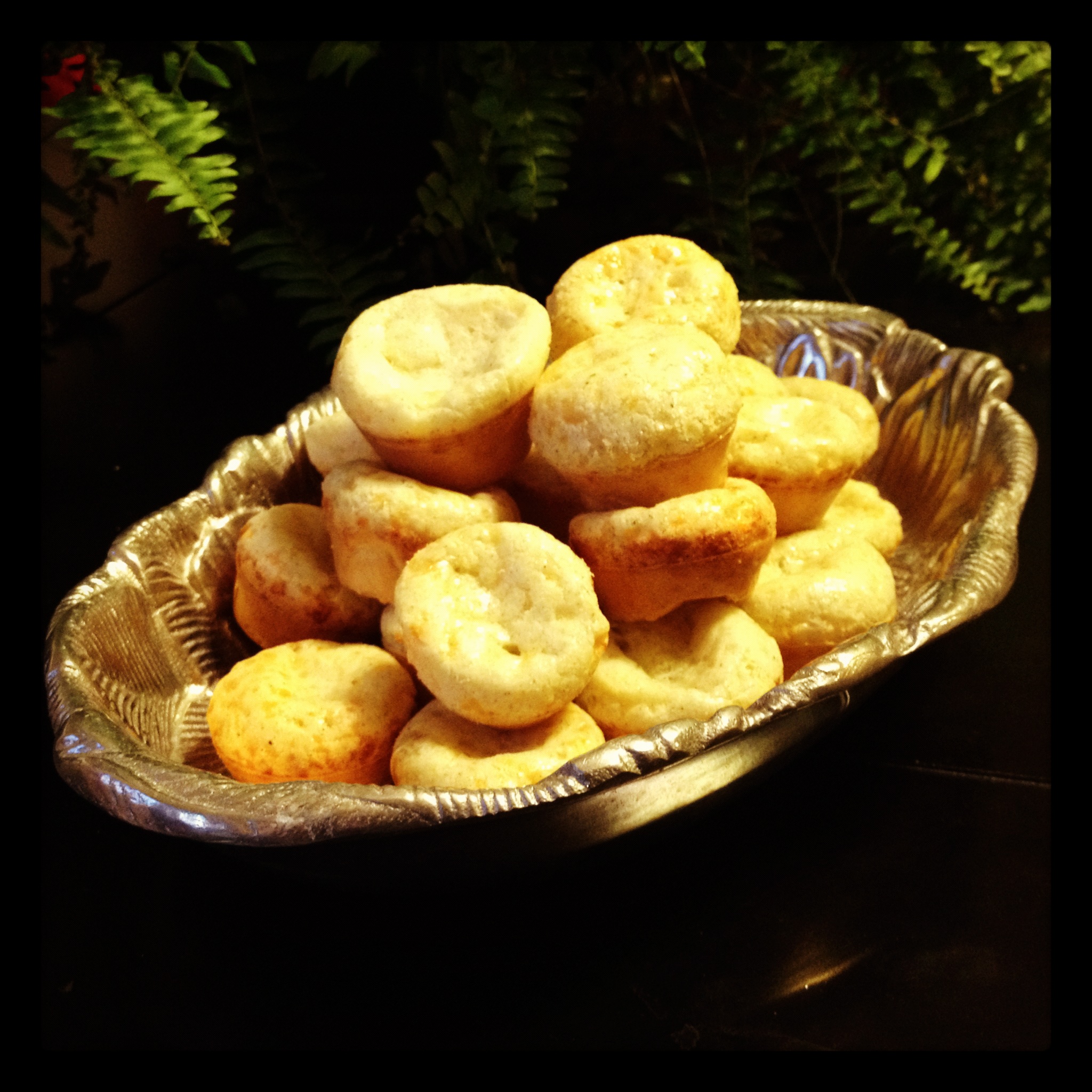 Ingredients:
2 eggs
1 cup milk
1/2 cup olive oil
2 cups of tapioca flour (I use Bob's Red Mill brand)
2 tsp of fine natural salt
1 tsp sage
1 tsp thyme
3 tsp raw sugar
6 tsp onion powder
2 cup of grated pungent cheese (I personally used a four-cheese Italian blend. It had provolone, fontina, Parmesan, and mozzarella. In short, you want cheese with flavor. No wimpy, bland cheeses need apply)
Instructions:
Throw all of the above in a blender or food processor, except for the 2 cups of cheese. I use my Vitamix©. In a pinch you can use a hand-held mixer.
Blend briefly until all of the ingredients are combined.
Then add the 2 cups of grated pungent cheese. Give it a few quick whirls.
Finally, pour into a lightly oiled mini-muffin pan (I love my Goldtouch© Non-stick Mini-Muffin Pan from Williams Sonoma).
Bake in a preheated 350° F oven for 16-19 minutes.
Let cool slightly before removing the breads from the pan.
And watch them come. And watch them swoon.