Shortly after we closed on our land purchase we began dreaming about what our future home might look like.  We tried sketching out plans on paper and we tried some free online options but we usually just ended up frustrated and irritable after a short session of working on our new home design.
I finally decided we should consider investing some money in a decent home design application for our computer.  I did the research, starting with TopTenReviews.com.
I decided on Home Designer Architectural
by Chief Architects and found the best price on Amazon.com
I have to confess that at first it seemed like a bad purchase because we both couldn't get the software to do what we wanted.  Fortunately, Chief Architect provides tons of video tutorials on their site that cover everything from how to change the slope of your roof to how to change the dimensions, position, and style of windows and doors.
After spending an hour or so watching tutorial videos we started having a blast designing our new home.  Here is a picture of our very first practice plan: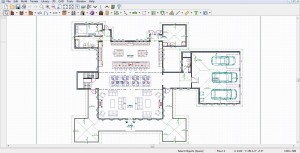 We have since poured hours into revising this plan and even today, almost four months later we are still making minor edits to specific details trying to get everything just right. I can only spend about an hour a day on the plan before I'm ready to do something else but Bethany could easily spend an entire day editing the plan and viewing the 3D renderings of the kitchen, bathrooms, family room, etc.  We don't plan to start building for at least another year so we have plenty of time to get things perfect.
Her is a picture of our latest plan (at the time this post was created – August 23, 2012):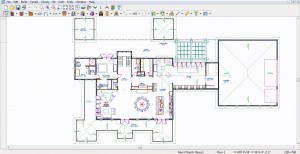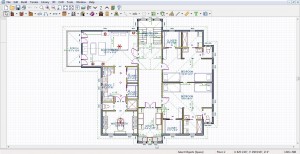 We will post later revisions as we get closer to construction but hopefully this shows how powerful this software is while simultaneously showing how easy it is for a novice to use.  Neither of us have experience with graphic design or 3D rendering but we were completely able to capture what was previously only in our imagination using this program.  If you are considering building a new house or remodeling an existing house we both strongly recommend Home Designer Architectural 2012.
Here is a screenshot that shows the quality of the rending (on a 4 year old laptop) of the exterior of the house (we will upload some interior screenshots in a future post):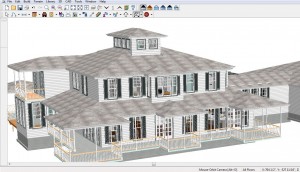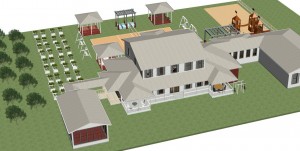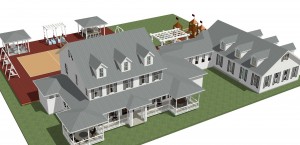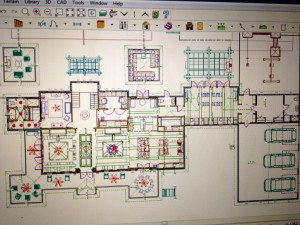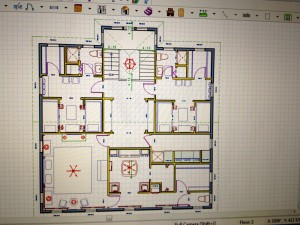 We will upload more pictures in the future and if there is interest we could potentially upload our full plan so that visitors to this site that own Home Designer Architectural 2012 could download our plan and view or modify the plan directly themselves. Leave a reply if you would be interested in that or if you have any questions about our experience.