I realized while I was traveling for business this week and thinking about my family that my kids have fallen for a common trap that frequently derails people from their best future.  The phrase I frequently hear lately is "Not bad".  Let me give you some examples of not bad versus good,
Why can't we listen to that song…it's "Not Bad"!
or
Why can't we watch that movie..its "Not Bad"!
The problem with "Not Bad" is that it is not the same as "Good"
According to the Bible this life is like a race:
The Race
Hebrews 12:1  "Therefore, since we are surrounded by such a huge crowd of witnesses to the life of faith, let us strip off every weight that slows us down, especially the sin that so easily trips us up. And let us run with endurance the race God has set before us. 2 We do this by keeping our eyes on Jesus, the champion who initiates and perfects our faith."
There are many similar references in the Bible to this race that we are running for God, here is another example:
I Corinthians 9:24 "Do you not know that in a race all the runners run, but only one gets the prize? Run in such a way as to get the prize.25 Everyone who competes in the games goes into strict training. They do it to get a crown that will not last, but we do it to get a crown that will last forever.26 Therefore I do not run like someone running aimlessly; I do not fight like a boxer beating the air.27 No, I strike a blow to my body and make it my slave so that after I have preached to others, I myself will not be disqualified for the prize."
Not Bad versus Good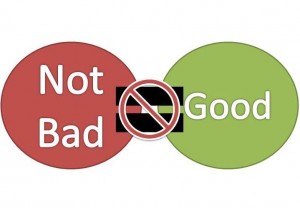 When we set our personal standard at the level of "Not bad" we are slowing down our pace in the race.  We simply don't have time for "Not bad".  We only have time for the best things in this life.  The best music, the best movies, the best hobbies, the best use of our money, the best friends, the best conversations, our best work, our best effort, etc.
God wants our best!
Our bodies are to be a living sacrifice:
A Living Sacrifice
1 Therefore, I urge you, brothers and sisters, in view of God's mercy, to offer your bodies as a living sacrifice, holy and pleasing to God—this is your true and proper worship.2 Do not conform to the pattern of this world, but be transformed by the renewing of your mind. Then you will be able to test and approve what God's will is—his good, pleasing and perfect will.
Once we test and approve what God's will is then we simply need to decide to choose God's Will instead of the "Not Bad" option. God's will, when faced with a huge life changing decision or just an insignificant, mundane decision, is always the WISE decision….not the "evil" decision, not the "not bad" decision, not the decision everyone else would make, its always the wise one.  So try to choose God's will each minute of your day, whether you are deciding which songs to listen to, what status to post on your Facebook wall, what to do with your free-time, or what your next sentence should be in a conversation.  Choose wisely and Run the race to win!